Reliance Jio Infocomm Limited, doing business as Jio, is an Indian telecommunications company and a subsidiary of Jio Platforms, headquartered in Navi Mumbai, Maharashtra, India. It operates a national LTE network with coverage across all 22 telecom circles. Currently, Jio offers 4G and 4G+ services all over India and 5G service in selected cities. Its 6G service is in the works.
Wewins team to match Jio fully customized requirements on the wireless mobile broadband device, after the both parties' efforts and hardworking, JIOFI M2 officially launched at mid of 2016.
JioFi device allows multiple users and mobile devices to access Jio's 4G high-speed internet connectivity and create a personal Wi-Fi hotspot.
Starting from the year 2016 till date, Reliance Retail has introduced around 9 different MiFi models to cater to the superfast internet hungry customers in India. When compared to CY2016, Reliance retail data card shipments witnessed a gigantic growth of 456% in CY2017.

In all of models, M2 as the most popular and stable performance model. Became the best seller and lowest failure rate model, Wewins as the shortest time which cooperate with the Jio, finally became the Jio most preferred vendor.
From 2016 until Now, M2S is the only JioFI model which still selling in the market because of slim and good looking deisgn, key based the most stable performance so that make the people enjoy the Jio LTE network.

JioFi has changed the meaning of internet and dongle for Indians. With the help of many great technological brands, India has taken a different ride in the world of technology. Not many courtiers can match the class of India despite it is a developing nation. Even top tech brands hire Indians to do the hardest possible work comfortably. The hard-working skill with the good brain makes the people of India cut above the rest. They know what it takes to become as good as apple pie. This is the reason many of them stand at the highest level. JioFi is one such innovation Indians made for their benefit. It is a portable dongle which works with the help charging. It connects with WIFI and can work for 12 hours and more without charging it again. Jiofi.local.html is a great site to now many great things about this great product.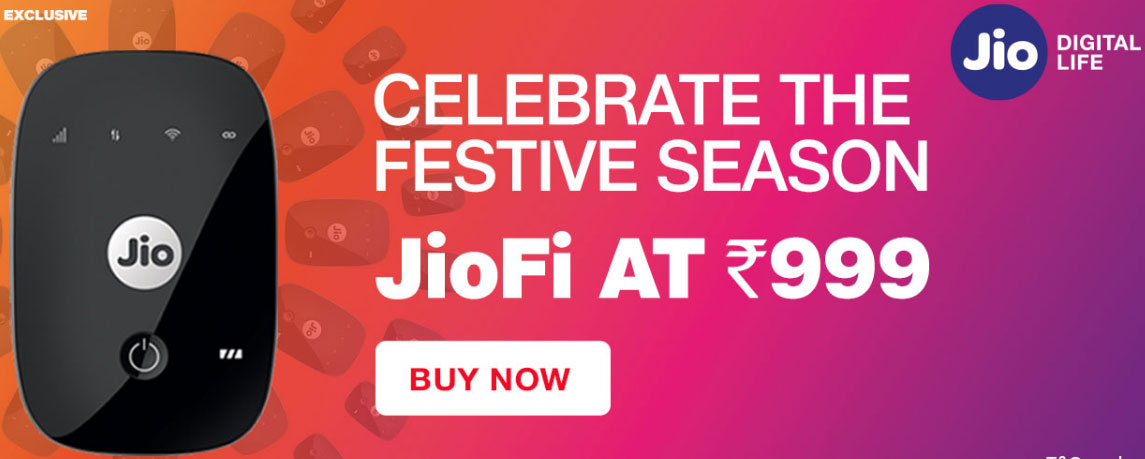 Can be great in rural India
In rural parts of India, mobile data can work very well as people do not need high-speed internet to serve their purpose. However, many young people need quality internet platform to become better than many modern-day students in urban areas. It shows how important it is to have JioFi. It is not too expensive and works well for the development of a young brain. Anything is possible in this world. Hence, having good support from anywhere is good have. It shows a different light for all.
Can be great for emergency
There will many situations when people feel disturbed for not getting the best internet speed. It can make their time look very dark to deal with. Having JioFi can slive the problem as it will give decent internet speed to finish the task and keep on working well for getting the best benefits for the betterment of their work. It is a great back up to have – and the cost is very low from many different angles. It gives the advantage to be better than others and keep on working hard for making your work look better.
Great for hostel students 
In many Indians universities, hostel students get the internet data limit. In a famous and rich Indian university named Lovely Professional University (LPU), a student can use not more than four GB in seven days. It is not good as students do require unlimited data to study and become better. It happens because many take the advantage of good internet speed for doing many bad things. For students, JioFi can be a great option to study and get the best out of their student life. It won't cost too much and will bring future benefits.
Can work while travelling
JioFi gives better internet speed for official and personal work. Travelling on a plane will not take a lot of time for an individual. However, trains and buses might burn a productive period for an individual. In this competitive environment, one has to work very hard to become better than others. Hence, reading something on the internet will be far better. JioFi works better than the mobile sim card, so it will provide the user with the best platform to learn, do work and become stronger. Indeed, JioFi is the best product for this service. It gives quality internet speed without major problems.
Until now, Wewins team offered more solutions to Jio for more and more  solution on the IOT projects. As one of most preferred vendor in Jio system.
Remark: part of the data comes from Cyber Media Research and Services Limited