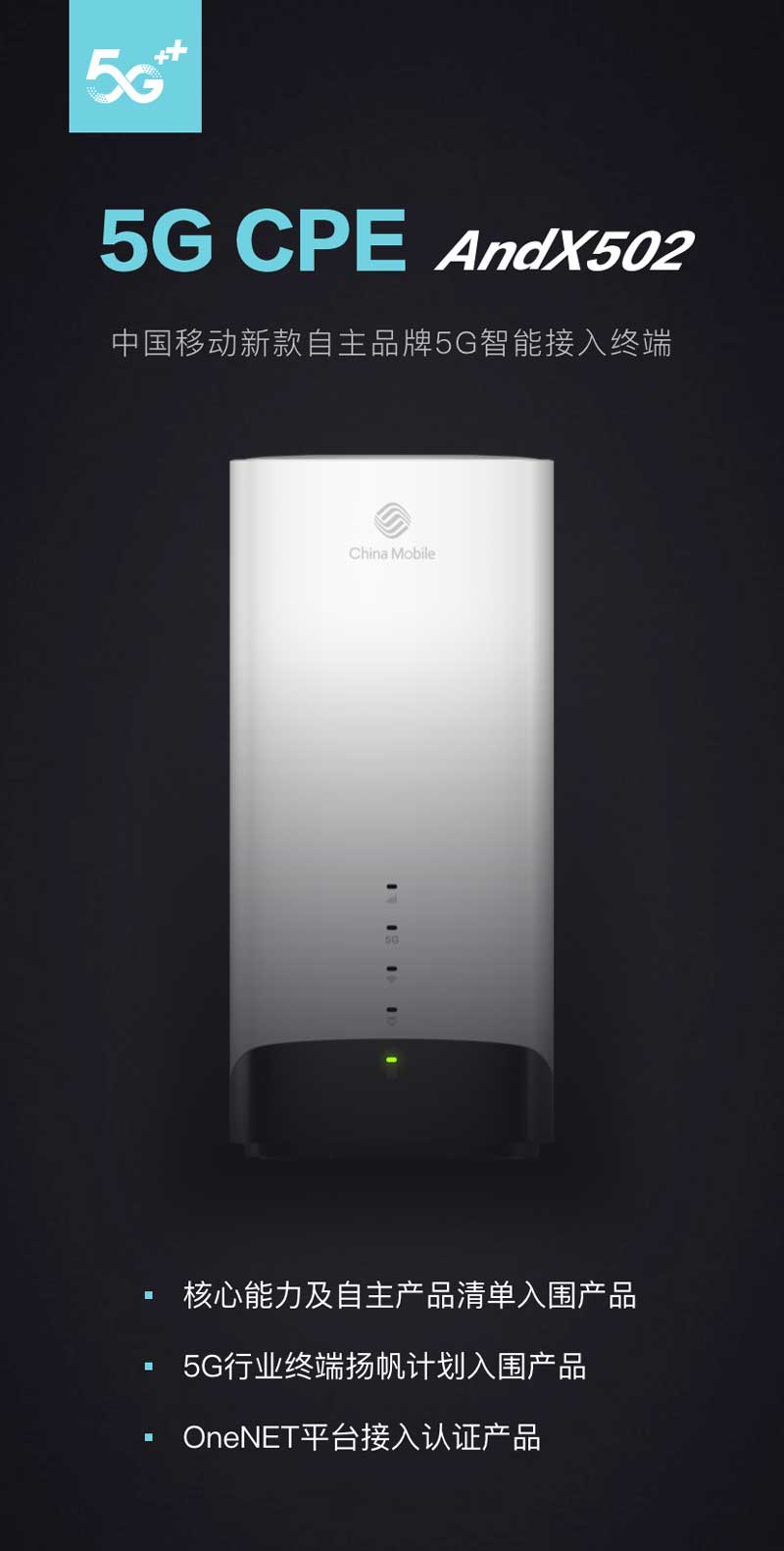 In 2020, China will vigorously promote the construction of new infrastructure. 5G is a key area of construction, various industry applications are emerging, and the 5G industry terminal demand is strong. On September 25, China Mobile IoT Company Limited launched a new self-owned brand 5G CPE intelligent access terminal AndX502(C082). AndX502 has been shortlisted China Mobile's core competence and independent product, China Mobile 5G industry terminal sail program shortlisted product, and has passed China Mobile OneNET platform access certification product .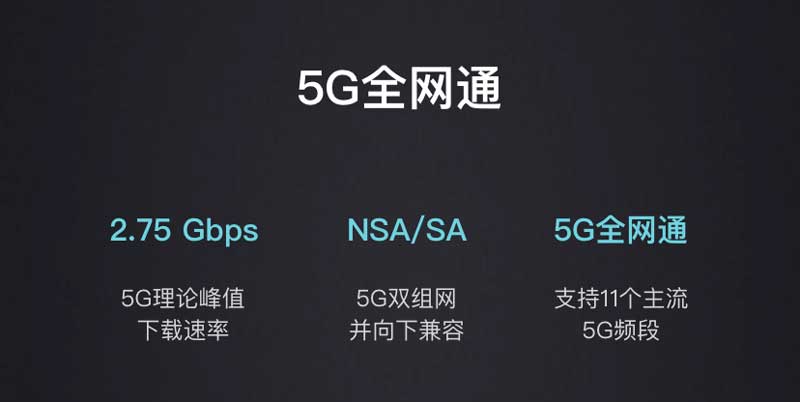 As a excellent model, AndX502 converts 5G network signals into WIFI signals and network cable access, AndX502 supports 5G SA/NSA dual networking mode, compatible with 5G global mainstream frequency bands, 5G peak download rate up to 2.75Gbps, can be used for related industry users, residential solutions. Also AndX502 are provided with high-speed wireless access services.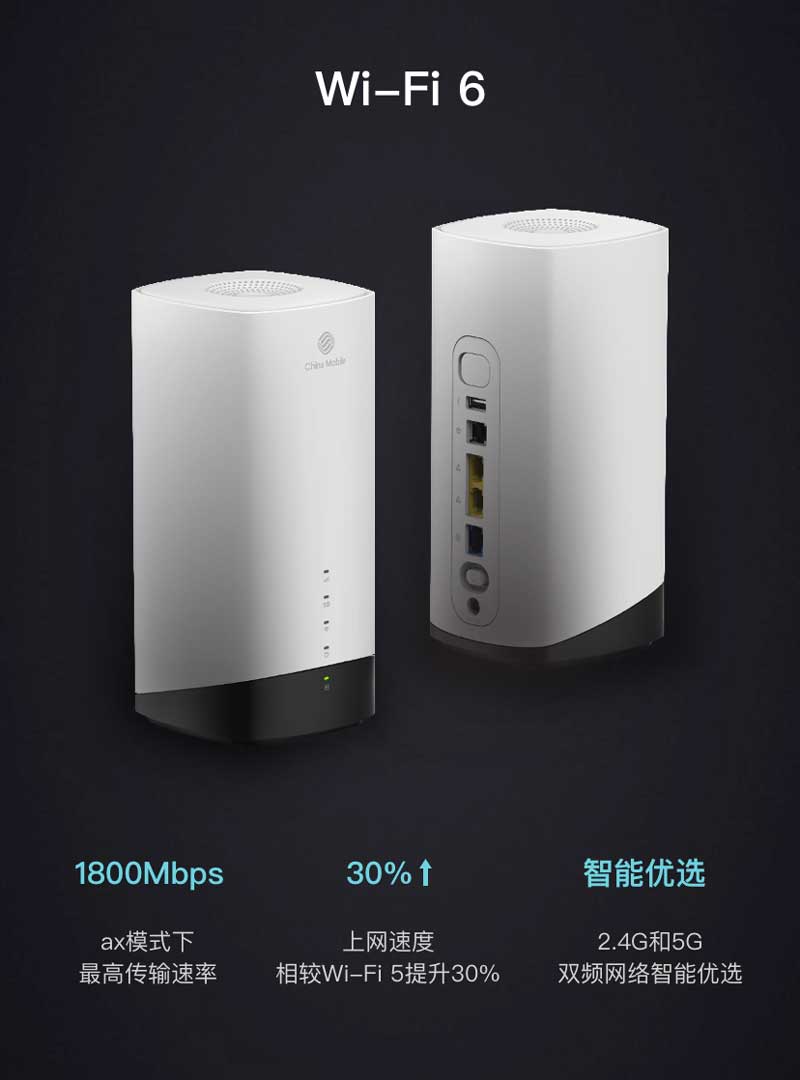 AndX502 supports the latest generation of Wi-Fi 6 protocol, which can realize intelligent optimization of 2.4G and 5G dual-band networks, and the Internet access speed is 30% higher than that of Wi-Fi 5; in terms of interfaces, AndX502 has 3 Gigabit wired network ports, and supports both Wireless and wired mutual backup, automatic switching, to ensure user network stability.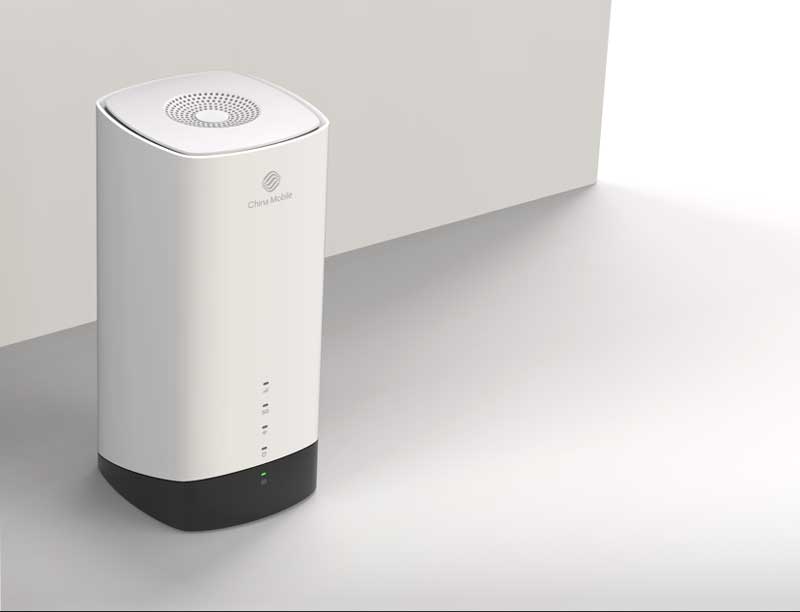 Besides, AndX502 has passed the China Mobile OneNET platform access certification, also it has perfect centralized equipment management capabilities, offer "cloud-platform-terminal" integrated intelligent management and support services, in addition to supporting 5G network management, online monitoring, event alarm, In addition to data analysis and other functions, it can also flexibly implement customized functions such as Wi-Fi settings, SMS management, and parental control.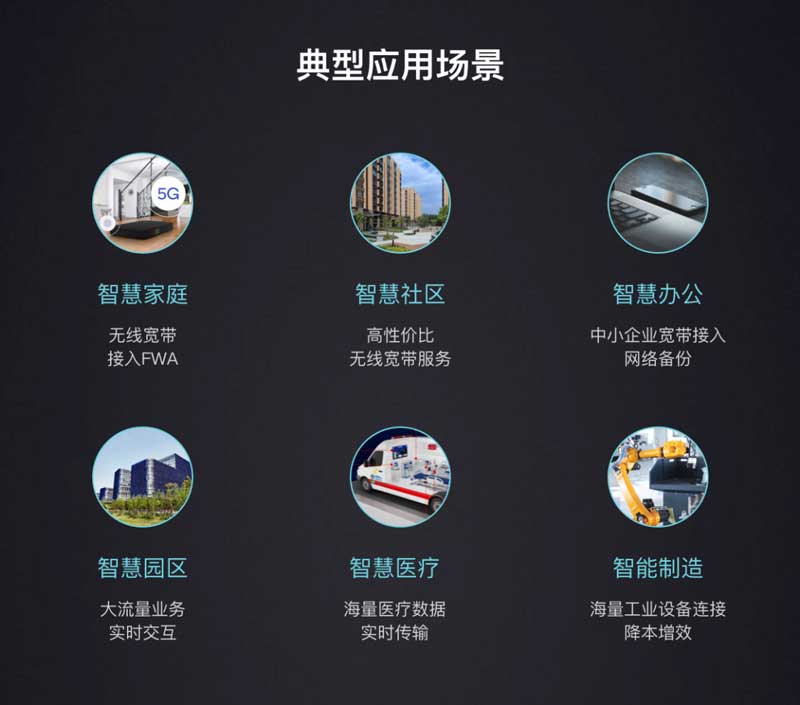 With the powerful performance of high speed, full band frequency compatible, Wi-Fi 6, and mutual backup, China Mobile 5G CPE AndX502 can be widely used in related industries such as smart home, smart community, smart office, smart park, smart medical care, and smart manufacturing. In the field of smart homes, it can provide wireless broadband access services in addition to traditional fixed-line broadband services for the majority of home users to achieve a true "wireless" network connection; in the field of smart communities,house renter do not need to undertake the cost of fixed broadband services, high-speed wireless broadband connections can be provided for new tenants; in the field of smart office,It can change the monopoly of fixed broadband and force the property to lower the entry threshold. So AndX502 could provide a new option of broadband access and network backup for small and medium-sized enterprises; in the field of smart parks, with 5G+video applications as the cut-in, it can realize real-time interaction in video surveillance, robot patrol, AR/VR and other scenarios, meeting the large bandwidth and low latency requirements of various 5G applications and services ; In the field of smart medical care, it can be widely used in many sub-scenarios such as in-hospital wireless network coverage, data isolation and security, low-latency network slicing, massive in-hospital connections, and mobile ambulances to achieve rapid transmission and real-time analysis of massive medical data. Effectively improve the quality of medical services and management efficiency; in the field of intelligent manufacturing, combined with edge computing MEC and 5G network slicing, it can realize massive connections of sensors, processors, PLCs and other devices on the production site, enabling industrial field control equipment and robots for remote control and core production data management.